Cantina La Veinte: A gastronomic journey to Mexico in the heart of Brickell, Miami
Food & Drink Parties
Our Top Experiences and Tours in Miami:
If youʻre booking your trip to Miami last minute, we have you covered. Below are some of the top tours and experiences! Cantina La Veinte

is a restaurant concept that has transcended borders, bringing authentic Mexican cuisine and its rich culture through every dish served. With its headquarters located in Miami's vibrant

Brickell

neighborhood, this cantina has become a meeting point for those looking to immerse themselves in a unique culinary experience. Since its opening in 2014, Cantina La Veinte has constantly evolved while maintaining its essence and offering a unique culinary experience to its customers. With a strong foundation in traditional Mexican food, the cantina seeks not only to transmit the country's culture through its dishes, but also to re-educate and encourage diners to discover the richness and diversity of Mexican cuisine in its entirety.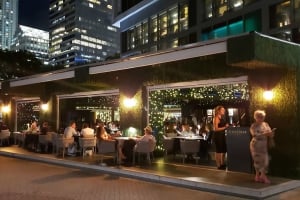 Gastronomy that embraces tradition and innovation:
People often associate
mexican food
with a few famous dishes, such as "mexican tacos", and while these iconic dishes are part of traditional cuisine, they represent only a fraction of the wide variety of flavors and dishes belonging to Mexican cuisine. Cantina La Veinte seeks to allow its customers to discover this great diversity of flavors present in traditional Mexican cuisine, which has strong influences from Spanish cuisine as well.
Cantina La Veinte's menu is a celebration of Mexican cuisine at its best. Each dish represents one of the country's states, offering a wide variety of flavors and traditional culinary techniques. From handmade tortillas and molcajete sauces to avant-garde techniques such as vacuum cooking, spherification and foams, every detail is carefully considered to provide an exceptional dining experience. The menu is constantly updated, incorporating new and top quality ingredients, guaranteeing a fresh and exciting experience on every visit. Among the most requested dishes are the fresh guacamole, tuna tostadas, soft shell crab dobladitas and the taco gobernador (flour tortillas filled with shrimp, Mexican cheese and tomatillo-citrus sauce).
In addition, the restaurant incorporates a "cantina" twist to the traditional cuisine, expanding the options for all types of customers and occasions.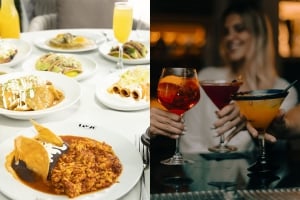 The essence of Mexican cantinas:
The concept of cantinas has evolved to become a fundamental element of Mexican culture. Originally, cantinas were places where people gathered with friends to enjoy drinks accompanied by plates of food that were offered free of charge. This practice was intended to keep diners in the place, prolonging their stay and enjoyment. Over time, cantinas have evolved into restaurants where a wide variety of dishes and drinks can be found. Cantina La Veinte has embraced this tradition and has become a meeting point for casual gatherings with friends as well as for important or business events, being a versatile and cozy place for all occasions.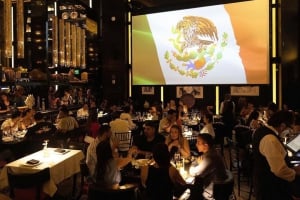 A captivating and authentic atmosphere:
The ambiance at Cantina La Veinte is a perfect blend of elegance and tradition. The careful selection of the décor, made in collaboration with outstanding Mexican artisans, creates a visually stunning environment. The geometry of the Mexican Art Deco style merges with the vibrant black and gold colors, framing the splendor and magic of the place. The monumental bars, which house one of the largest selections of tequila and mezcal in the city, are the center of attention. And the bar manager surprises diners with delicious and sophisticated cocktails, further elevating the experience.
Cantina La Veinte has two distinct ambiances: the upper part of the restaurant offers a classic and elegant ambiance, with elements that evoke the feeling of being in a sort of "museum". The décor includes various handcrafted pieces and elegant golden chandeliers, creating a sophisticated and quiet ambience.
Downstairs, diners enjoy a more relaxed and authentic cantina atmosphere. Here, a mariachi band performs live every day except Tuesdays for two hours, filling the place with traditional Mexican music and creating a casual, festive atmosphere. On Tuesdays, the restaurant becomes a meeting point for Argentine nightlife, attracting a large Argentine community present in Miami. It is an opportunity to enjoy the culture and food of Argentina in a cozy and friendly environment.
Also, on weekends, after 10 p.m., the party comes alive with the presence of live DJs. People can dance, drink and have fun in the best Mexican style, creating a unique and energetic experience. Cantina La Veinte has become a popular place for those looking for a lively and entertaining
night out
.
In addition to its festive atmosphere, the cantina also offers the "longest happy hour in Miami". Every weekend, from 12:30 noon to 7 p.m., diners can enjoy a special selection of drinks and cocktails at special prices. It's a perfect opportunity to relax, socialize and enjoy the authentic Cantina La Veinte experience at more affordable prices.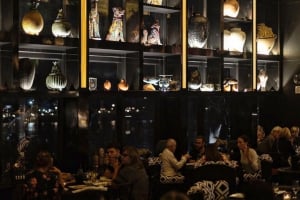 A promising future:
Cantina La Veinte's success and authenticity have led the company to plan expansion to other destinations. Initially, the team plans to open a new restaurant in New York City the next year, bringing their unique concept and passion for Mexican cuisine to a new audience. In addition, they have plans to expand tentatively to Las Vegas and Dallas, where they hope to share the richness of Mexican culinary culture with even more people.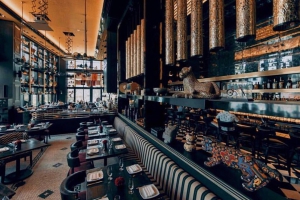 The difference lies in authenticity:
What really sets Cantina La Veinte apart from the competition is its authenticity. Many of the team members are Mexican and have a deep knowledge of the country's culture and cuisine. With dedication and passion, they manage to convey the essence and authentic flavor of Mexico in each dish. Each dish is prepared with care and attention, using quality ingredients and traditional techniques. The love and respect for Mexican food is reflected in every bite, making the experience at this restaurant truly exquisite in every way.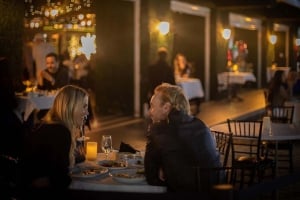 At Cantina La Veinte, diners not only enjoy a delicious meal, but also immerse themselves in Mexican culture, discovering the wide variety of dishes and flavors that make up traditional cuisine. It is an experience that goes beyond simple tasting, it is a culinary and cultural journey that leaves a lasting impression on those lucky enough to enjoy it.