Best things to do at Boca Raton
Adventure Arts & Culture Lifestyle Top 10
Boca Raton is a beautiful city in the southeastern part of Florida, known for its stunning beaches, picturesque parks, and fabulous shopping and dining options. Whether you're a resident or a visitor, there's never a shortage of things to do in this charming city. From exploring its natural beauty to indulging in its vibrant culture, Boca Raton offers a diverse range of activities that will keep you entertained and engaged.
Here are some of the most interesting places you can visit to make the most of your time in this stunning city.
MIZNER PARK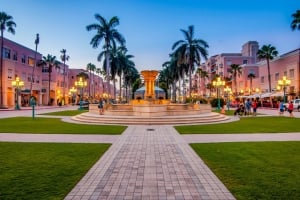 Mizner Park is a must-see destination in the affluent downtown neighborhood of Boca Raton, FL. Designed by the founder of Boca Raton, Addison Mizner, this high-end shopping, residential, and entertainment district reflects his love of Mediterranean architecture. The district boasts an impressive collection of high-end shops and restaurants with luxury apartments, making it the heartbeat of Mizner Park. Visitors can tour a fine art exhibit or catch a concert at the Mizner Park Amphitheater, and for the ultimate movie-going experience, iPic Theatres offers an upscale cinema with in-theater dining and reserved luxury seating. The park is home to the Boca Raton Museum of Art, an outdoor amphitheater, and a wide variety of high-end department stores, designer boutiques, and eateries. The tropical garden vibe of this multiuse entertainment area is a highlight for out-of-towners and locals alike, and select events, such as summer concerts, are free.
BOCA RATON MUSEUM OF ART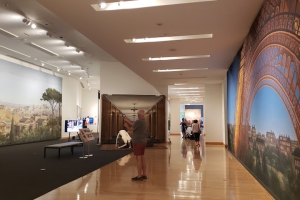 Located in the heart of Mizner Park, this museum offers world-class
art and culture
. With over 4,500 works of art, the museum is a leading cultural institution in South Florida and has achieved international recognition for its dynamic exhibitions and distinguished permanent collection. Take in the beauty of African and Pre-Columbian art, 19th and 20th century European and American paintings, drawings, sculptures, and a photography collection that will leave you breathless. The museum is not only a feast for the eyes but also offers a range of public programs, including artist presentations, family activities, and art classes at the Art School. Recent visitors have called the photography collection "first-class" and recommended visiting on the first Sunday of the month when the museum offers free admission. Don't miss out on the opportunity to stroll through the beautiful Mizner Park before or after your visit and grab a bite to eat at one of the many restaurants in the area. The museum is open Tuesday to Sunday, closed on Mondays, and offers free parking in Mizner Park's four garages. Admission is free for children under 15 and students under 18, and a reasonable price for adults.
GUMBO LIMBO NATURE CENTER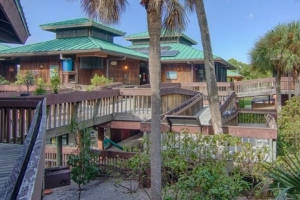 Discover the wonders of South Florida's marine environment at Gumbo Limbo Nature Center, a fascinating nature complex located at the north end of the boardwalk in Red Reef Park.
The center is well-known for its involvement in sea turtle conservation, as the beaches of South Florida serve as a nesting habitat for loggerhead, green, and leatherback sea turtles, all of which are classified as threatened or endangered species. In collaboration with the Florida Fish and Wildlife Conservation Commission, Gumbo Limbo actively protects the area's sea turtles through its Boca Raton Sea Turtle Conservation and Research Program.
Visitors of all ages can enjoy a variety of environmental programs and sea turtle-themed activities, such as the popular turtle walk and hatchling release program, as well as free outdoor marine feedings. The center also houses an indoor museum with exhibits, small aquariums, and a gift shop, as well as several large outdoor aquariums featuring ecosystems for fish, turtles, and other sea life. The scenic boardwalk, nature trails, and beach area are perfect for taking in the natural beauty of the area, and kayaking through the mangroves is a must-try experience. Admission is free, but a suggested $5 donation per person is always welcome.
SUGAR SAND PARK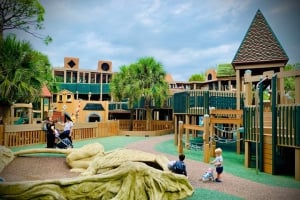 Recognized for excellence with multiple awards, including "Best of the Best Parks," it offers a range of exciting experiences for visitors of all ages. For those seeking adventure, explore the park's two nature trails, Sand Pine and Slash Pine. Or, visit the Children's Science Explorium, featuring a hands-on science center that is both educational and fun. The park also features a water park, playground, carousel, athletic courts, full gym, and extensive picnic facilities. Recent visitors rave about the park's family-friendly amenities, making it a top choice for outdoor fun in Boca Raton. Visiting Sugar Sand Park is one of the many
recommended activities if you are visiting the city with your family and children.
TOWN CENTER AT BOCA RATON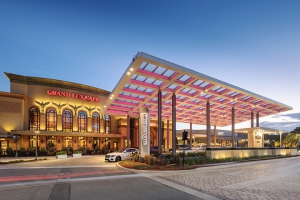 Town Center is a top luxury
shopping destination
that offers a mix of upscale specialty shops, as well as popular mall stores and fine restaurants. With over 200 stores, the mall boasts an impressive lineup of department stores, including Neiman Marcus, Saks Fifth Avenue, Nordstrom, Macy's, and Bloomingdale's. It also features high-end stores like Louis Vuitton, Cartier, Gucci, and Tiffany & Co. The mall is the largest enclosed and conventional shopping mall in Palm Beach County, and is renowned for its ample parking options, convenient location off I-95 and Glades Road, and its wide array of dining options. With a recent expansion called Terrace at Town Center, shoppers can now explore new lifestyle shops in addition to the existing offerings.
THE WICK THEATRE & COSTUME MUSEUM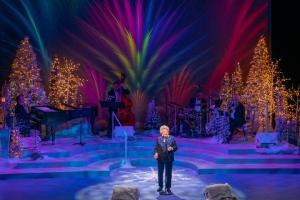 The Wick Theatre & Costume Museum is a spectacular exhibit of Broadway's most incredible costumes ever made by esteemed designers in American Musical Theatre history. It houses over $20 million worth of original costumes from more than 50 Broadway productions and revivals. Along with tours of the museum, visitors can also experience theater shows, cabaret, and indulge in delicious cuisine at the elegant Tavern Room, an ode to the iconic Tavern-on-the-Green® in New York City. The museum is housed in a theater with 333 seats and founded by Marilynn A. Wick in 2013. Visitors can enjoy a tour of the costume museum followed by lunch or dinner before a show, and recent visitors highly recommend both the food and the quality of the stage productions. Tours are available daily and require an appointment, and the least expensive tour option includes a three-course lunch at the Tavern Room. There is also a cocktail tour and a combination show and dinner package available at different prices, and complimentary parking is available near the theater.
RED REEF PARK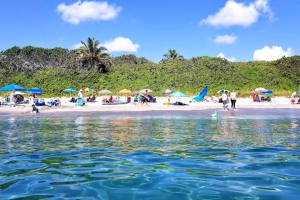 Located on one of Florida's most picturesque highways, Red Reef Park is a stunning 67-acre oceanfront park that offers a range of activities, from swimming and snorkeling to golfing and picnicking. It is home to the Red Reef Executive Golf Course and the Gumbo Limbo Nature Center, where visitors can explore the park's wildlife and marine life. The beach itself is a highlight, with its beautiful shoreline, easy swim to the reef, and great snorkeling. Parents will appreciate the year-round lifeguard patrol and the opportunity for children to view colorful parrotfish and search for sharks' teeth. Admission to the park is free, but there is a vehicle entry fee. Visitors can take advantage of metered parking across the street from the park to save on fees, but parking can still add up quickly. Don't forget to bring your camera to capture images of the park's small and large bird populations.
CANDICE PERSONAL TRAINNING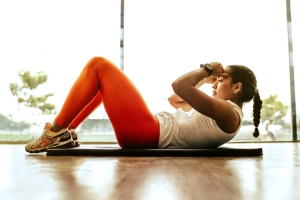 If you are looking for a way to improve your fitness while learning the essential skills needed to defend yourself in dangerous situations,
Candice Umansky
is the perfect personal trainer for you. Currently based in Boca Raton, she is a 45-year-old Brazilian with a degree in physical education and over 20 years of experience as a personal trainer. She has worked extensively in her field, helping people transform their lives by achieving their fitness goals, whether it be
weight loss
,
muscle gain
, or i
mproving overall health and wellness
.
So, now you know, when
exploring South Florida
, you can´t miss this destination. Boca Raton truly has something for everyone, from outdoor enthusiasts to culture seekers to foodies. Whether you're looking for a relaxing day at the beach, a hike through a nature reserve, or an evening of theater, this vibrant city won't disappoint.