All eyes on Miami's art scene
Arts & Culture
'Miami keeps getting better and better,' says
Fredric Snitzer
, the city's veteran dealer who will be celebrating his gallery's 45th anniversary in December. 'Miami has always been a tricky place to run a gallery business, but Art Basel changed everything – the situation is much better than it's ever been.'
Recent attention on the Magic City, however, has focused on hiking rent prices due to the great migration of people during the pandemic, which includes not only finance and tech entrepreneurs, but also new collectors and art professionals (this author included).
Miami is an attractive live-work destination precisely due to the remarkable development of the contemporary art scene, which feels like it's taking off everywhere. Having witnessed the evolution of the city over several decades, Snitzer says that a crucial indicator of the city's maturation is the development of long-standing art nonprofits like Bakehouse, Oolites Arts, and
Locust Projects
, which 'are doing better than they ever have'. And it doesn't stop there: All three have projects underway for either renovating, expanding, or constructing new buildings.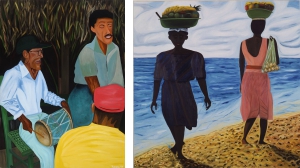 Left: Rafael Ferrer, Juancito y Esteban, 1993. Right: Rafael Ferrer, Momento, 1993. Courtesy of the artist and Fredric Snitzer Gallery.
Private art collections keep evolving and opening new spaces also: Following the opening of
Jorge M. Pérez collection
warehouse, Espacio 23, and the Selldorf Architects-designed
Rubell Museum
– both in 2019 in Allapattah – the new arts hub will also see the new art foundation space of real estate developer and restaurateur John Marquez open in the spring. The foundation, Marquez Art Project, says that its mission is to support 'young and rising artists through the opportunity to exhibit their work in a public setting'. Marquez had already made his mark on the scene, collecting Miami-based artists such as the Venezuelan portrait painter Bernadette Despujols, whose career has taken off in recent years. 'Alongside
Spinello Projects
and the
ICA
, John Marquez has been a great supporter of my work in Miami,' Despujols says.
Despujols moved to Miami in 2012, after finish­ing her master's at CalArts, to join her family here. The main reason for living in Miami, however, is her studio at Bakehouse Art Complex, which hosts over 60 studios, exhibitions spaces, talks, and residencies in Wynwood. Bakehouse is a reference point for many artists in great part due to the dia­logue it generates in the community and affordable studio space. 'I love the community – being able to share the beautiful space with different artists, many of whom are great friends, is really impor­tant,' Despujols says.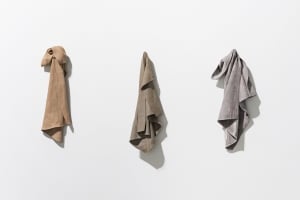 Juana Valdés, Colored Bone China Rags, 2017–present. Courtesy of Spinello Projects.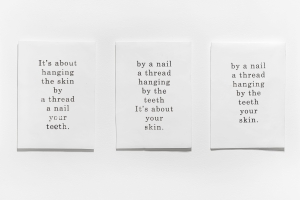 Juana Valdés, Hang By Ceramic, 2017–present. Courtesy of Spinello Projects.
The sentiment is shared by Haitian-born artist Adler Guerrier, who has lived in Miami for more than 30 years, receiving a prominent solo show at
PAMM
in 2014, and who has also chosen Bakehouse for his studio. 'Bakehouse is a microcosm,' the artist says. 'My relationship to my colleagues reverts around questions such as "how do we make better work; how do we get the word out; how does the local experience translate to the national or international scene?"'
Guerrier also cites Miami-Dade County as an important patron for many artists in Miami. 'They go out of their way to broaden the reach of artists' commissions,' he says, adding that he is proud to have recently unveiled a commissioned wall mural with photography installation at one of Miami-Dade's public housing projects.
Although many Miami dealers say that the majority of their business takes place with clients and institutions outside of Florida, the positive effects of the pandemic migration are felt through the whole art ecosystem.
David Castillo
, one of Miami's stalwart dealers, who represents Guerrier, says, 'Naturally new collectors are playing an active role not only in acquiring works by my artists, but also in supporting local institutions through board memberships and donations of money and art.'
Anthony Spinello, a curator and dealer who founded Spinello Projects 17 years ago and is now also located in Allapattah, agrees that the change has been positive. 'Ironically, 2020 – during the peak of the COVID pandemic – was a game changer for my gallery.' While 'collectors from big cities looking for a tropical refuge settled in Miami, collectors who already live here and couldn't travel outside of Miami discovered some diamonds in their own backyard, artists such as Reginald O'Neal, Jared McGriff, and Bernadette Despujols.' Even though he is excited to be back in Art Basel Miami Beach this year, he says that moment 'offered folks the opportunity to explore our local community and revealed the best of Miami'.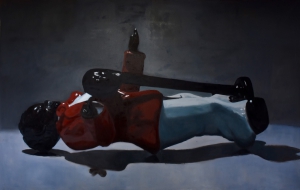 Reginald O'Neal, The Entertainer, 2022. Courtesy of the artist and Spinello Projects.
What's magical about Miami is precisely the 'eclecticism and diversity of artists from diverse backgrounds', says Luisa Lignarolo, one half of the gallerist duo behind LnS, which was established alongside her husband, Sergio Cernuda, in 2017 with the mission to create a bigger platform for Miami-based artists. 'There is a lot of momentum building, with all the new people that are moving down here; all eyes are on Miami,' Lignarolo says. The gallery has sold works to collectors who have moved here in the last year from Berlin, Chicago, Boston, and San Francisco. 'We've also met art consultants from New York who have recently relocated and are sourcing directly from Miami.' While Miami has also been traditionally seasonal, that is changing too, Lignarolo says. For the opening of their summer group show 'In the Company of Women', which opened on July 15, soon after the Roe v. Wade decision was made, roughly 500 people were in attendance. That's unheard of in hot and steamy Miami summers.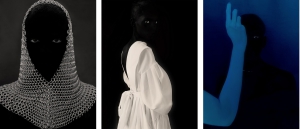 Left: Elliot & Erick Jimenez, Even In The Eyes Of All Posterity, 2022. Middle: Elliot & Erick Jimenez, I Always Return, 2022. Right: Elliot & Erick Jimenez, Rejection, 2022. Courtesy of Spinello Projects.
With all of these developments, Miami still has a long way to go, Snitzer says. 'It is not enough to just be edgy and cool. The work needs to resonate.' The city still lacks strong MFA programs, good graduate schools, and a strong academic scene that often cultivates artists that push the envelope. Miami-based artists don't have that, and they often have to leave to get that richer experience of artists in Manhattan or Berlin, he says, adding that this problem has been widely discussed in institutional boards. Some unique places, however, have taken steps to address this. Spinello points to institutions like the Fountainhead artist residency, which 'continue to build bridges globally', as a significant initiative that enriches the local contemporary art scene.
This article was originally commissioned for the Art Basel Miami Beach magazine 2022.