Sustainable and Eco Friendly Hotels in Miami
Lifestyle Retreats & Relaxation Top 10
Our Top Experiences and Tours in Miami:
If youʻre booking your trip to Miami last minute, we have you covered. Below are some of the top tours and experiences!

Miami is known for its

sunny beaches

,

vibrant nightlife

, and thriving tourism industry. The city attracts millions of tourists every year and offers multiple hotel options to stay in.

However, with the rise of climate change, it's more important than ever to consider sustainable travel practices. Luckily, Miami is home to some of the best eco-friendly and sustainable hotels in the world, where you can enjoy a conscious and luxurious vacation while reducing your carbon footprint.

If you want to ensure that the hotel you've booked is environmentally conscious, the most effective way is to verify that it has been acknowledged by either the

Florida Green Lodging Program

(a voluntary initiative developed by the Florida Department of Environmental Protection to recognize and encourage sustainable practices in the hospitality industry) or has obtained

LEED certification

(a globally recognized rating system that recognizes buildings and facilities for their sustainable and environmentally responsible features).

Here are some of the best eco-friendly and sustainable hotels in Miami:

1 Hotel South Beach

A luxurious lifestyle hotel that offers a unique eco-driven experience to its guests. As a Silver LEED certified project, the hotel has made use of reclaimed wood throughout the interiors and has implemented a variety of energy, water, and environmental design strategies to minimize its environmental footprint.

In addition to its physical design features, the hotel has also incorporated sustainability into its guest experience. Instead of using paper or plastic products, the hotel offers "triple clear" water filters in all taps to replace plastic bottles, a chalkboard instead of pen and paper, and a 1 Hotels Field Guide app in place of traditional brochures. This commitment to sustainability has even extended to the hotel's transportation options, with a small fleet of Audi electric cars available for guest use.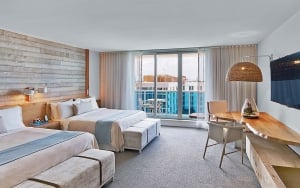 Hampton Inn & Suites by Hilton Miami Brickell Downtown
Hampton Inn & Suites by Hilton Miami Brickell/Downtown is proud to be the first LEED certified hotel in the City of Miami and is dedicated to continuing to implement green initiatives in their daily operations. This 221-room hotel, located in downtown Miami's
Brickell Financial District
, has implemented a sustainability policy to benefit guests, team members, business partners, and the community. This policy includes a focus on conserving resources, creating an eco-friendly workplace, and meeting the needs of today's world. The hotel offers 4 electric vehicle charging stations, including a Tesla Charging Station, which are available 24/7 at no additional cost to guests. And on top of that, it offers stunning views of Miami's skyline and is located near the popular Batch Gastropub.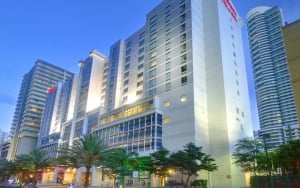 Cadillac Hotel & Beach Club
With its prime location in Miami Beach, this historic Art Deco property is a true gem that offers more than just a comfortable stay. Not only does it boast a nautical aesthetic that exudes laidback luxury, but it also features two stunning swimming pools, an exquisite Italian restaurant, and an oceanfront bar that is perfect for taking in the breathtaking views.
But what truly sets the Cadillac Hotel & Beach Club apart is its commitment to sustainability. In 2014, the hotel underwent a major renovation and a modern tower was built, making it the first LEED certified hotel in Miami Beach. This means that the property was designed and constructed with the highest standards of environmental responsibility, efficiency, and sustainability in mind.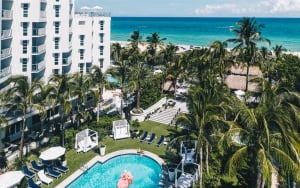 The Miami Beach EDITION
By restoring a historic property from the 1950s and achieving LEED certification, the hotel proves that it values the environment just as much as its guests. It's not just about reducing waste, either - The Miami Beach EDITION goes above and beyond by eliminating single-use plastics, a commitment shared by all Marriott hotels.
The hotel's commitment to sustainability is reflected in its partnership with
Just
, an upstart bottled-water company that uses sustainably sourced H2O and biodegradable sugarcane-derived plastic for its packaging. With Stay Plastic Free, the hotel's campaign to remove single-use plastics from the hotel industry, guests can enjoy a guilt-free stay knowing that their indulgences are not at the expense of the planet. With two restaurants by Jean-Georges Vongerichten and a Basement nightclub featuring a four-lane bowling alley, The Miami Beach EDITION proves that luxury and sustainability can go hand in hand.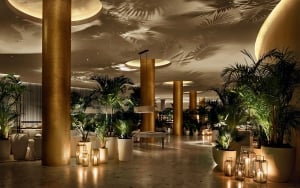 The Palms Hotel & Spa
Located in a prime location in Miami Beach, "The Palms" is a classic eco-conscious hotel that is a proud member of the Florida Green Lodging Program. With a gorgeous pool and lush outdoor lawn, The Palms offers a serene retreat that also champions sustainable cuisine through its farm-to-table Essensia Restaurant and Lounge, which sources ingredients from local purveyors and its onsite garden.
In The Palms, they are committed to eliminating disposable plastics from their operations. Their efforts so far include providing in-room aluminum and cardboard water bottles, aluminum water bottles in meeting rooms, and eco-friendly take-away containers made of bagasse, along with biodegradable drinking straws made from agave fiber and corn-starch cutlery at the pool and beach.
The hotel also features low-flow showers, sinks, and eco-friendly toilets in every bathroom, along with a linen/towel reuse program, quick-dry bathrobes, and guest in-room program that conserves materials. LED lighting and UV windows throughout the place ensure that they use electricity more efficiently and sustainably.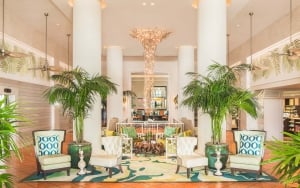 Circa 39
Circa 39, the sister hotel of The Palms, shares the same commitment to sustainability and has been recognized by the Florida Green Lodging Program. At Circa 39, sustainability is a top priority. The hotel has implemented several measures to reduce its environmental impact and promote sustainable travel, including the option for guests to reuse towels to minimize water waste.
This charming boutique hotel also offers a unique culinary experience at Jules Kitchen, which serves up a delectable selection of global comfort food.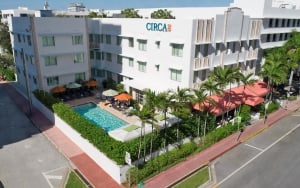 The Standard Spa, Miami Beach
Strategically positioned on the serene Belle Isle on the Venetian Causeway. With its breathtaking location, the hotel boasts of an unparalleled zero entry swimming pool and an outdoor mud lounge that will leave you revitalized and refreshed. You can indulge in the ultimate relaxation in the indoor spa, which features a spacious stadium-style hammam and water journey.

Moreover, The Standard Spa, Miami Beach, goes above and beyond in promoting a sustainable lifestyle. Their restaurant is committed to serving only the finest organic cuisine, ensuring that every bite is not only delicious but also nourishing to your body.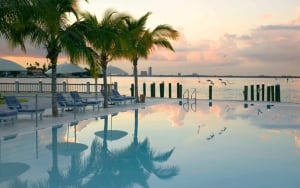 Epic Hotel – A Kimpton Hotel
With a prime location just a 15-minute walk from PortMiami and
Bayside Marketplace
, this 5-star hotel is the perfect destination for those seeking both convenience and sophistication. With 411 guest rooms featuring private balconies, pillowtop beds, and 55-inch flat-screen TVs, you'll feel right at home.
The hotel's recreational amenities include two outdoor swimming pools, a sauna, and a 24-hour fitness center. Enjoy a delectable seafood meal at
Area 31
, one of the hotel's two restaurants, or sip a refreshing drink at one of the three bars/lounges. Kimpton EPIC Hotel also prioritizes sustainability, implementing eco-friendly materials such as driftwood-inspired slatted headboards and wood-look tile flooring. The hotel also implements reuse policies for linens and towels, reducing environmental waste.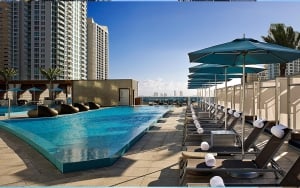 Majestic Hotel, Miami
Situated in the heart of Miami Beach's
Art Deco District
, is a top-rated hotel that offers guests a luxurious and sustainable vacation experience. Its prime location directly facing the beach makes it an ideal choice for those seeking a trendy and vibrant vacation.
As part of their commitment to sustainability, the hotel's Cambean Earth initiative focuses on incorporating the most effective and efficient means of conserving energy, water, and other natural resources while providing guests with a unique and enjoyable hotel experience. From high-efficiency showerheads and sink faucets to zero VOC paint and energy-efficient lighting, The Majestic Hotel's eco-friendly features help to reduce its environmental impact without sacrificing comfort or style.
Cambean Hospitality, the parent company of The Majestic Hotel, is recognized as the first carbon neutral hospitality group in the United States. The company has established partnerships with local and national non-profit organizations that are dedicated to sustainability, natural resource protection, and education and outreach. Through these partnerships, The Majestic Hotel has been able to aid and participate in their efforts and events while providing additional opportunities for these organizations to achieve their goals.
The hotel is also a Clean the World Hotel Partner, recycling partially used soap products and donating worn hotel towels and linens to local pet shelters and rescue organizations.
Mandarin Oriental, Miami
Located on the exclusive Brickell Key island, Mandarin Oriental, Miami is a one-of-a-kind urban resort that offers luxurious open spaces and gentle ocean breezes to delight any traveler. With its prime location in close proximity to Miami's finest shopping, dining, and nightlife, it provides an ideal oasis for guests to unwind and relax.
The hotel has implemented several measures that align with their group-wide policy of eliminating single-use plastic. One such initiative includes the introduction of an on-site water filtration system that reduces plastic bottle consumption by producing enough for 700 glass bottles daily. Additionally, the hotel has switched to disposable food containers and eliminated plastic straws.
The hotel's commitment to sustainability also extends to the treatment of organic food waste, which is sustainably broken down and composted using the ORCA food composting system. The hotel's GLSand machine crushes and reduces glass bottles, creating sand-like material that can be used on beaches. The hotel also regularly recycles soap and bottled amenities from guest rooms.
By retrofitting lights to LED, Mandarin Oriental, Miami has contributed to a decrease of 1,712,727.42 KW hours from 2017-2019, representing a .84% reduction in energy consumption. The hotel also participates in Earth Hour annually by turning off all non-essential lights on the designated date.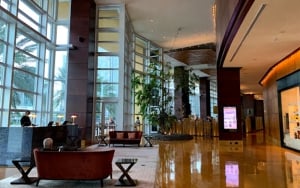 In today's world, it's more important than ever to take responsibility for our impact on the environment. By choosing to stay at sustainable and eco-friendly hotels in Miami, we can enjoy all the city has to offer while reducing our carbon footprint. These hotels are not only environmentally conscious, but they also offer a high level of luxury and comfort. By supporting these hotels, we can encourage more businesses to adopt sustainable practices and help create a greener future for all. So, the next time you're planning a trip to Miami, consider staying at one of these sustainable and eco-friendly hotels and join the movement towards a more sustainable future.