Must-see exhibitions to pencil-in to every Miami Art Week itinerary
Arts & Culture
Jesse Bratter
ICA Miami
In the first US museum survey of the late Michel Majerus, 'Progressive Aesthetics' presents rarely seen works from the early 1990s. On view from November 29 – March 12, 2023, the exhibit highlights digital prints, oils, acrylics, and screen prints by the artist that explore appropriation and digital, American, and popular culture.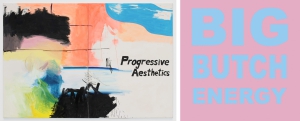 Left: Michel Majerus, Progressive Aesthetics, 1997. Private collection. © Michel Majerus Estate, 2022. Courtesy neugerriemschneider, Berlin. Photo by Jens Ziehe. Right: Nina Chanel Abney, BBE, 2022.
Also on view during this time, Nina Chanel Abney's 'Big Butch Energy' offers a commentary on gender, sexuality, and racial undercurrents told through the lens of Greek student life. 'From the beginning of this exhibition's development, Nina knew that she wanted the work to challenge audiences to think about the ways in which institutions and individuals are complicit in perpetuating ideas of identity and gender,' says ICA Miami Artistic Director Alex Gartenfeld. 'We're honored to present her at a critical moment in her production, as she is evolving her practice into new and exciting territories.' In support of the museum's sustainability efforts, ICA Miami will donate funds toward offsetting the carbon footprint of Abney's exhibition.
Plus, on view from November 29 – April 30, 2023, 'Herve Telemaque: 1959–1964' looks back at the early works of the French artist, whose postwar paintings range from abstract creations and distorted figures to pop art.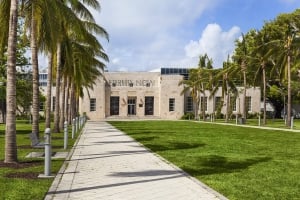 View of The Bass and Silvia Fleury, Eternity Now, 2015, from Collins Park. Photo by Zachary Balber. Courtesy of The Bass.
The Bass Museum of Art
In the year 1565, Pieter Bruegel the Elder painted The Harvesters, an oil-on-wood summer scene set in the Netherlands depicting workers in a wheat field. Inspired by this introduction of humanism into Western art, Jamilah Sabur will present 'The Harvesters', a solo exhibition on view through April 30 featuring mixed media works that explore the physical economies of extraction through the lens of climate change and deep-sea mining.
On view through May 14, 'The End of Imagination' by Argentine artist Adrian Villar Rojas takes viewers on a journey through time and space thanks to an immersive environment that uses new and recontextualized sculptures and installations to explore humanity and the notion that nothing lasts forever.
Also on view are Charo Oquet's I Am Here: Translation of Mystic Symbols in an Age of New Subjectivity, a temporary, site-specific sculpture on view through January in Collins Park, and the exhibition 'Phraseology' (through April 23), which explores the implementation of text, phrases, and poetry in modern and contemporary art.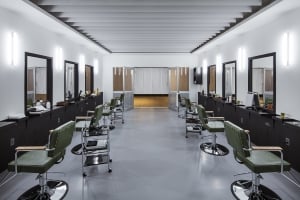 Leandro Erlich, Hair Salon, 2006-2017. Installation view in 'Seeing and Believing', Mori Art Museum, Tokyo, Japan, 2017. Courtesy of Mori Art Museum. Photo by Hasegawa Kenta.
Perez Art Museum
'I was fortunate to get to know Leandro Erlich's work in the early 1990s in Argentina, and ever since I've been consistently amazed by his genius at transforming vernacular architectural spaces into bewildering visual paradoxes,' says Dan Cameron, guest curator for 'Leandro Erlich: Liminal', the artist's first North American survey exhibition on view at Pérez Art Museum Miami from November 29, 2022 – September 4, 2023. 'Because of the special challenges his sculptures present in terms of their design and construction, most people have only been able to experience one piece by Leandro Erlich at a time.'
But starting with Miami Art Week, art enthusiasts are able to experience not just one but 16 site-specific immersive experiences organized throughout PAMM's special galleries. Everyday scenarios – a swimming pool, a classroom, a subway, a hair salon, and more – become transportive under Erlich's watch. 'In the hands of Leandro Erlich, art and magic are often one and the same,' says PAMM Director Franklin Sirmans.
Also on view through 2023 are 'George Segal: Abraham's Farewell to Ishmael', a series of plaster-cast biblical sculptures that have undergone a restoration, and 'Mariano: Variations on a Theme', the first major US retrospective exhibition of the work of Cuban artist Mariano Rodríguez.
Rubell Museum
Since acquiring their first piece in 1965, Don and Mera Rubell's private collection has grown to more than 7,400 contemporary artworks that they share with the public on a permanent and rotat­ing basis through the Rubell Museum Miami, a 100,000-square-foot campus in Allapattah. For this year's Miami Art Week, the museum will exhibit works by artist-in-residence Alexandre Diop and commissioned works by Doron Langberg, as well as paintings by Jo Messer and Tesfaye Urgessa.
Also showing will be new acquisitions and collection highlights including Yayoi Kusama's INFINITY MIRRORED ROOM – LET'S SURVIVE FOREVER and Jean-Michel Basquiat's Bird On Money, which the couple acquired in 1981. While here, make a reservation at Leku, the indoor-out­door restaurant at the museum whose menu pays homage to the Cote Basque region of Spain and features its own curation of art.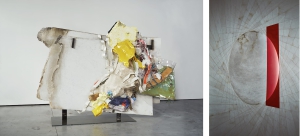 Left: Peter Buggenhout, I am the tablet #4, 2020. Courtesy of Konrad Fisher Galerie, Dusseldorf. Right: Marco Bagnoli, Dove Porta, 2021. Courtesy of Galleria Christian Stein, Milan. Both images: Collection Martin Z. Margulies.
The Margulies Collection at the Warehouse
'The Margulies Collection has always been a place to see current artists from Europe and the United States,' says Margulies Collection curator Katherine Hinds. 'This year, we will be present­ing the exhibition "New European and American Painters and Sculptors", which will focus on work new to the collection. This exhibition will present much of what we have been collecting from gal­leries in Germany, Finland, Great Britain, Italy, France, Austria, and the US over the past two years during the pandemic.'
Another exhibition, 'The Italians', captures a glimpse of the art scene in Italy through more than 30 works by Italian artists. And 'The Bitter Years' chronicles rural America in the 1930s as it struggled through the detrimental Dust Bowl era and Great Depression. Dorothea Lange, Walker Evans, and others were among the photographers to document this time, and 65 of their vintage photographs will be on view during the exhibit.
Additionally, the Collection has added works to its permanent Anselm Kiefer exhibition – the largest in the country – and will also spotlight sound artist Susan Philipsz's immersive Part File Score along with permanent large-scale installa­tions by the likes of Olafur Eliasson, Richard Serra, Frank Stella, and Franz West, among others. Stop by as well for cafe con leche during the even Coffee at The Warehouse, to be held each morning throughout the run of Art Basel Miami Beach.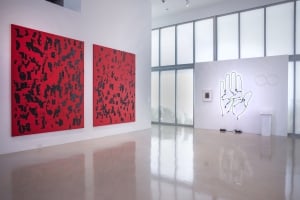 Installation view of 'Together, at the Same Time', 2022-2023, featuring work by Glenn Ligon and Felix Gonzalez-Torres. Courtesy of the de la Cruz Collection.
de la Cruz Collection
When Rosa and Carlos de la Cruz began collecting contemporary art in the 1980s, they focused on works by Latin American artists. Think Rufino Tamayo, Wifredo Lam, Carlos Alfonzo, and Ana Mendieta. And while you can still see these works inside their 30,000-square-foot museum in the Miami Design District, the couple has since expanded to seek out contemporary artists on a broader international scale.
The de la Cruz Collection celebrates this year's edition of Art Basel Miami Beach with 'Together, at the Same Time', highlighting works by said artists as well as Glenn Ligon, Félix González-Torres, Christina Quarles, Loriel Beltran, Walead Beshty, Peppi Bottrop, Cosima von Bonin, Yesiyu Zhao, and more. 'This year's exhibition brings together paintings, sculptures, and site-specific installations from our private collection,' Rosa de la Cruz says. 'Our annual exhibitions represent the collection's history and revisit works within the context of the moment.'
El Espacio 23
Tucked away from the hustle and bustle of Miami Beach and Wynwood, a reimagined 28,000-square-foot warehouse space brings art to Allapattah by way of El Espacio 23, thanks to mega-collector and philanthropist Jorge M. Pérez. Featuring more than 80 Cuban and Cuban-diaspora artists from different generations, 'You Know Who You Are' examines Cuban history and culture through themes that run the gamut from representation, race, gender, and human rights to the artists' connection with the island. Representing works acquired since 2017 by the Jorge M. Pérez Art Collection, the exhibit highlights works by Amelia Pelaez, Loló Soldevilla, Zilia Sanchez, Raúl Cordero, Reynier Leyva Novo, and Belkis Ayón, to name a few. Artist and activist Tania Bruguera, born in Havana, will give a spe­cial performance during Miami Art Week as well.
Installation view of Ronny Quevedo's exhibition 'offside', University Art Museum, University at Albany, 2022. Courtesy of the University Art Museum, University at Albany.
Locust Projects
Ecuadorian-born artist Ronny Quevedo turns the long-running art incubator Locust Projects into a literal playing field as he collaborates with local futsal (a smaller-scale indoor version of soccer) players to examine immigration policies through a lens of sports. Inspired by indoor soccer leagues played among immigrant Latin American and Caribbean communities in the United States, 'ole ule allez' uses movement within sports as a meta­phor for relocation and displacement, played out in real-time matches at the gallery.
In the Screening Room, Donnamarie Baptiste has guest-curated video works by Mikey Please, Dimitry Saïd Chamy, Duke Riley, and Paul Ward. And the Project Room plays host to an installation titled Room for the living / Room for the dead by Miami artist T. Eliott Mansa, whose work explores religious and vernacular traditions around memorials.
'The three shows at Locust Projects during Art Basel are brought together around the idea of consciousness and the spaces we navigate and create, whether it's an artist trying to do good in realizing an idea and failing, or the power of luck, memorializing and manifesting,' says Executive Director Lorie Mertes. 'Ronny Quevedo's work, for example, draws parallels between play and movement in sports and migration over local and international borders and the conscious adaptations and ever-changing rules immigrants face.'
MOCA North Miami
Three artists are joining the Museum of Contemporary Art, North Miami to explore identity and culture as Miami Art Week returns. On view until April 16, 2023 is Didier William's 'Nou Kite Tout Sa Dèyè', an expansive narrative of the artist's personal experiences growing up in North Miami, Black life in America, and Black queer humanity told through paintings, prints, books, and his first monumental sculpture. Look out for an accompanying documentary created with Emmy Award-winning producer and director Marlon Johnson.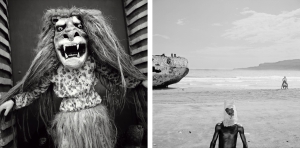 Left: Leah Gordon, Lyon (Lion), 2009. Right: Leah Gordon, Gason Bó Lanmé-a (Boy by the Sea), 2000. Both images courtesy of the artist and MOCA North Miami.
Leah Gordon – a multitalented curator with the Ghetto Biennale in Port-au-Prince, Haiti, and the Haitian Pavilion at the 54th Venice Biennale under her belt – has documented street theater and costume design during carnival time in Haiti over the course of two decades, all in black-and-white photographs. Joined by oral histories and a feature-length documentary, 'Kanaval' is on view through April 16, 2023.
Chire 'VantaBlack' Regans's installation To What Lengths will also be on view through January 20, 2023, on the museum's public plaza, exploring the roots and connectivity of Black culture and other diasporic peoples. Large-scale braids representing the women in Regans's family symbolize traditions passed down through generations.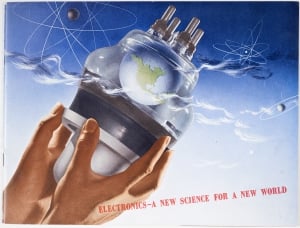 Herbert Bayer, Electronics—A New Science for a New World, 1942, brochure.The Wolfsonian–Florida International University, Miami Beach, Florida, The Mitchell Wolfson, Jr. Collection.
The Wolfsonian-Florida International University
Between 1850 to 1950, when the world was broadening its horizons thanks to travel and technology, a new kind of weapon was quietly forming: the modern map. Paintings, prints, and posters that delineate our geography have outlined everything from colonialism to world wars, mapping out not only routes but also harmful agendas, including the conflicts behind today's Russian invasion of Ukraine. Through April 16, 2023, The Wolfsonian will explore the journey of mapmaking and globes, and their influence, in 'Plotting Power: Maps of the Modern Age'.
Elsewhere at the institution, 'Turn the Beat Around' – on view through April 30, 2023 – follows the creative collaborations between musicians in Cuba and the United States from the 1930s through the 1960s, depicting the new sound fusions that were formed during this time via posters, record covers, sheet music, film clips, and audio.
---
This article was originally commissioned for Art Basel Miami Beach 2022 magazine.
Full bleed image captions: Installation view of Vanta Black, To What Lengths, 2022, ICA Miami. Photograph by Daniel Bock. A dark filter was applied over this image to make it easier to read. 2. Yayoi Kusama, INFINITY MIRRORED ROOM - LET'S SURVIVE FOREVER, 2017. Purchased by the Rubells in 2017. The exterior of The Space 23. 4. Installation view of Didier William's exhibition installation 'Nou Kite Tout Sa Dèyè', MOCA North Miami, 2022. Photograph by Michael Lopez. 5. From left to right: Roberto Lugo, Gun Teapot: Rosa Park, 2021; Water Tower Pour Over, 2021; Ice Cube Vase, 2022; Cherub, 2022. Courtesy of the artist.