Ice Cold Fun: Paradox Museum Antarctica
Adventure Arts & Culture Family Fun
Our Top Experiences and Tours in Miami:
If youʻre booking your trip to Miami last minute, we have you covered. Below are some of the top tours and experiences!

Antarctica is known for its stunning landscapes, icy terrain, and extreme weather conditions. It's not the first place you'd expect to find a museum, but the

Paradox Museum

has recently announced the opening of its newest location: the Paradox Museum Antarctica.

Imagine exploring the frozen landscape of Antarctica while also diving into the world of paradoxes. With over 70 exhibits that are both fun and mind-bending, you're sure to have an unforgettable experience.

The Paradox Museum is already known for its playful and mind-bending exhibits that challenge visitors to think outside the box. Now, with a location on the southernmost point on earth, the museum is taking its paradoxical approach to new heights.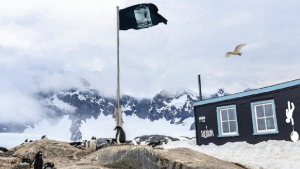 Visitors to the Paradox Museum Antarctica can expect a unique experience that will challenge their perceptions of reality. The exhibits are designed to be both interactive and paradoxical, with mind-bending displays that will leave visitors questioning what they thought they knew about the world.
The new location also features stunning visuals of the frozen landscape, with interactive displays that allow visitors to explore the Antarctic terrain without leaving the museum. From icebergs to penguins, visitors will feel as if they've been transported to the ends of the earth.
But don't just take our word for it. Check out the
brand-new website
for the Paradox Museum Antarctica and get a glimpse of what's in store for visitors.
Overall, the Paradox Museum Antarctica promises to be a one-of-a-kind experience that visitors won't soon forget. It's an opportunity to explore the world of paradoxes in a truly unique setting.
And the best part? It's just a click away! Book your tickets now and get ready to dive into the depths of the Antarctic. You won't regret it!
However, before you start booking your tickets and packing your bags for Antarctica, you may want to check today's date again… oh, April 1st. That means this whole thing is just an April Fools' Day prank, doesn't it? Well played, Paradox Museum, well played.
Yes, we hate to break it to you, but the Paradox Museum Antarctica is actually just an April Fools' Day prank. But don't worry, the Paradox Museum still offers
plenty of mind-bending exhibits and interactive displays
at their locations around the world.
While we love the idea of a museum in Antarctica, the logistics of such a venture would be nearly impossible. Nonetheless, we hope this joke has brought a smile to your face and perhaps even challenged your perceptions of reality, which is, after all, what the Paradox Museum is all about.