The Paradox Museum offers mind-blowing and fascinating experiences in Wynwood, Miami.
Adventure Arts & Culture Family Fun Inspiration Lifestyle
Wynwood's latest museum is a mind-bending exploration of the human brain... Welcome to the world's largest collection of paradox-based exhibits!
Did you know what a paradox is? Paradox, also known as antinomy, is a logically self-contradictory statement, or a statement contrary to our stated expectation. This is precisely what this amazing place wants you to believe!
The incredible museum located in Miami is an approximately 90-minute journey through 70 exhibits filled with optical illusions, interactive sensory experiences, and photographs galore. This permanent space is the third of its kind in the world and the first in the United States, with other locations in Oslo and Stockholm. It comes to us from the folks behind Orlando's Museum of Illusions, though this space is much larger and interactive.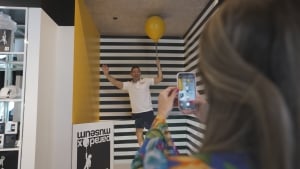 It invites visitors to immerse themselves as they "write their own story of paradoxes" within the museum's collection of mathematical, scientific and psychological experiences. The interactive installations, appealing to visitors of all ages, invite us to learn the tricks of perception and the workings of the human brain - it combines education and entertainment in a mind-blowing way!
Officially opened to the public on December 15, 2022, here you can find everything from rotating rooms to gravity-defying spaces, Paradox Museum Miami offers an Instagrammable journey through the inner workings of the mind. A place to take selfies that also serves to learn and learn more about ourselves.
This 11,000-square-foot, mind-blowing experience takes you on a journey through perception and process, and teaches us that what we think we see is not always real..
.
The tour begins with a short video explaining to visitors what they will experience, along with a U-shaped map of the museum, so they can get an idea of where they are going. The museum's de facto mascot, a man with balloons in his hand, leads the way so they don't get lost in the sea of mirrors and illogical angles. In every room there are costumed guides who explain how to interact with each exhibit and explain why your eyes deceive you.
The first must-see photo op is a mural of Miami Beach's iconic lifeguard booths, where visitors can have their picture taken "upside down" on top of one of the booths. Next is Room 180, where visitors can have their pictures taken while exercising upside down or, if they want to fool the Internet, lifting inhuman amounts of weight.
From there, you walk down a hallway of moving blocks and uneven boxes that give illusions of height and depth. Next, you'll reach the Paradox Tunnel, where you'll attempt to walk a plank through a room that rotates around you. If you've been to Halloween Horror Nights in Orlando, it's an illusion you're probably familiar with.
The Paradox Museum also has its own "tilting room," a space where the laws of gravity seem temporarily suspended. Pens roll uphill and the sense of balance leaves the body, reminiscent of Santa Cruz, California's Mystery Spot and West Virginia's physics-defying Mystery Hole. This may sound a little trippy, or even downright nauseating, but it's just your brain being your brain.
"What you're thinking is probably the opposite of what reality is supposed to be," says the museum's director of sales and marketing, Marc Gregory Tipton. "It's not a right or wrong scenario, you just see it a certain way. That's how the human brain works, and that's the best thing about it."
To liven things up, each room has themed music to accompany the illusions. There's even a talking piano, a marvel of artificial intelligence that carries on entire conversations with guests and plays songs if prompted. Other highlights include a couch that makes your arms and legs appear in different places, as if you've just stepped out of a scene from Beetlejuice, and a table full of mirrors where you can sit and chat with more than a dozen versions of yourself. Try not to think about that too much.
According to Tipton, the whole experience takes about an hour to an hour and a half, depending on how interactive you want to be and how many guides you talk to. The tour can also be completely self-guided, as QR codes next to each exhibit explain what's going on and what your brain is processing.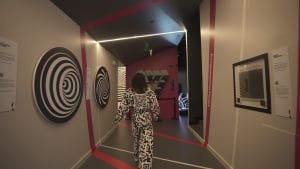 Open daily from noon to 7 p.m., and at 8 p.m. on Fridays and Saturdays. The best part? It's also rented out for groups and corporate events, in case you feel like strolling through a spinning tunnel with your co-workers.
Get tickets to the Paradox Museum in the heart of Wynwood, Miami. Made for all ages, a reality-defying destination offers mind- and eye-twisting experiences.
Pose, dance, jump and take pictures! Let the spinning horses of the Paradox Carousel play with your perception and take your family on an experience where fun and education go hand in hand. What are you waiting for?
While you defy reality, feel free to ask questions or get help taking group photos from the staff. Also, before returning to reality, you can stop by the Paradox Boutique, a gift store with a variety of games, apparel, souvenirs and accessories, all with a touch of paradox.
Real or imaginary? You won't stop asking yourself this question after purchasing a ticket to the Paradox Museum and visiting one of Miami's most fun museums.