Driving from Orlando to Miami - Gulf Coast
Lifestyle
Our Top Experiences and Tours in Miami:
If youʻre booking your trip to Miami last minute, we have you covered. Below are some of the top tours and experiences!

When you

drive

from Orlando to Miami, the Atlantic Coast route is the more direct and common path. Plus, it takes you from one beautiful beach to another, however; the Gulf of Mexico route is the more exciting road trip. The journey along the gulf boasts an even wider variety of sights, from beaches and seaside towns to natural beauty and lots of entertainment destinations. Plan a fun and beautiful two-day road trip from Orlando to Miami, and get ready to explore Tampa, Fort Myers, Naples, the Everglades, and much more on Florida's Gulf Coast. Make sure you are prepared for your trip by visiting our checklist of road trip essentials.

1. ORLANDO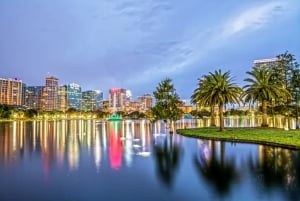 Downtown Orlando Skyline. Photo Credit: iStock
Kick your
road trip
off in Orlando, one of the most fun-filled destinations in Florida. While any trip to Orlando should include, at the very least, a few hours at Walt Disney World or Universal Studios, your visit doesn't have to center solely on theme parks.
Feel like getting out and exploring the great outdoors? Visiting the Harry P. Leu Gardens is a smart way to get some fresh air in Orlando. Immerse yourself in the groves of camellias and azaleas that dot this 50-acre oasis, or explore the artwork that fills the permanent and rotating exhibitions. Don't miss the 19th-century Leu House, where you can take a guided tour every 30 minutes throughout the day.
Drive 30 minutes south of the city center for an adventure at Gatorland. Self-proclaimed as the alligator capital of the world, visitors can experience ziplines, an off-road adventure, a variety of shows and more.
Day 1
Before you hit the road to head southwest toward Tampa, fuel up at one of Orlando's many independent coffee shops. At Stardust Video & Coffee, baristas pour coffee and serve vegan treats alongside an extensive selection of DVDs, which are available for rent. If you're serious about coffee, swing by Foxtail Coffee, which oozes style and specializes in ethically sourced beans from around the globe.
2. TAMPA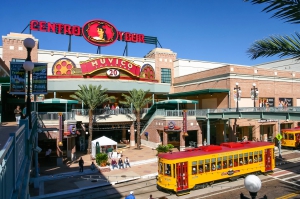 Ybor Neighborhood in Tampa, FL. Photo Credit: iStock
As you wave goodbye to Orlando, hop on Interstate 4 and head southwest toward Tampa. You'll take the interstate all the way to this Gulf Coast gem, which is about 85 miles away.
Once you arrive in Tampa, you can take your pick from countless animal-themed attractions such as Busch Gardens, Giraffe Ranch, Safari Wilderness Ranch, and Clearwater Marine Aquarium. Whatever you choose, make sure you don't miss your chance to visit the Tampa Electric Manatee Viewing Center. One of the most unique attractions in Tampa, this hydroelectric power plant naturally attracts manatees from Tampa Bay. In fact, wild manatees flock to the power station's discharge canal from November through mid-April to swim in the clean, warm saltwater when the rest of the bay is too chilly for their comfort. Viewing the manatees is entirely free, and you can also check out the center's butterfly garden if you have time.
Next, explore Tampa's cultural scene with a visit to the Henry B. Plant Museum, a stunning mansion with plenty of Gilded Age appeal. Tour the Moorish-inspired estate to see how railroad magnate Henry B. Plant lived in sumptuous style at the turn of the 20th century, and check out the exhibitions of royal treasures, decorative arts, and much more. If you're lucky, you might even catch a concert on the museum grounds.
With a full morning of exploring the city's culture, find the perfect appetite suppression remedy with a blackened or fried grouper sandwich from Big Ray's Fish Camp. Or better yet, sink your teeth into a grouper Rueben sandwich.
Before you leave town, be sure to take a stroll through Ybor City, one of Tampa's liveliest neighborhoods. Here, you can get a glimpse of the cigar factories where locals have hand-rolled cigars for decades, and browse a wide variety of independent boutiques.
Rent a car to make this trip
3. FORT MYERS
Driving from Tampa to Fort Myers is a breeze. Hop on Interstate 75, head south, and get on U.S. Highway 41 until you see signs for Fort Myers. If you haven't had your fill of manatees yet, you'll find plenty more in Fort Myers, especially if you stop by Manatee Park. Another wintertime refuge for manatees, this park is located near a Florida Power & Light facility that produces warm water and attracts these marine creatures from December to February.
To see more wildlife in the Fort Myers area, head to the J.N. Ding Darling National Wildlife Refuge, home to the nation's largest mangrove ecosystem. Here, you can hike easy trails along a raised boardwalk as well as challenging trails along Tarpon Bay, immersing yourself in the mangroves and spotting the many birds that call this refuge home. Keep your eyes open for American white pelicans, mangrove cuckoos, reddish egrets, roseate spoonbills, and yellow-crowned night herons, considered the park's "big five" birds to spot.
If history is more your speed, head over to the Edison and Ford Winter Estates, the winter homes of inventor Thomas Edison and industrialist Henry Ford. Tour the homes, stroll through the lush gardens and marvel at the collections of inventions and other artifacts.
4. NAPLES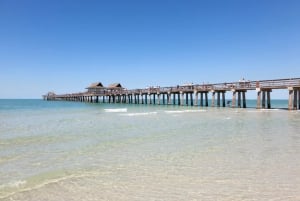 The Naples Pier. Photo Credit: iStock
Just 45 miles south of Fort Myers is Naples. If you want to take your time on this road trip and see as much of the Gulf Coast as you can, Naples is the ideal place to book a hotel and stay the night. Set your sights on downtown hotels on Fifth Avenue or Third Street for a fun place to stay.
Inject a little elegance into the road trip and enjoy dinner at Sea Salt. This fresh seafood restaurant is one of the best in the region. There are dozens of imported salts around the world and a rotating selection that is featured each night. The menu highlights the bounty of the ocean and versatility of gulf cuisine.
Day 2
Naples is the perfect place to relax and enjoy before you start heading east. Begin your quick tour of the city with a visit to the Naples Pier, which boasts a large boardwalk that stretches over 1,000 feet into the gulf. The pier is the perfect place for people watching, pier fishing, and soaking up panoramic vistas of the Gulf of Mexico.
Nearby, enjoy the area's natural beauty at the Naples Botanical Garden. This lovely spot is home to over 1,000 plant species and nine themed gardens. You can see a virtually endless array of plant life here, from palms to orchids to flowers native to Florida and the Caribbean.
5. THE EVERGLADES
No road trip across South Florida is complete without a drive through Everglades National Park, which spans 2,400 square miles of natural beauty. This expansive park is home to an incredible range of activities, from leisurely walks along the raised boardwalks to hiking more challenging trails through the wilderness. There are multiple access points to the Everglades from Highway 41, but If you have only a little time, check out the Big Cypress Bend Boardwalk, Big Cypress National Preserve, Loop Road and Shark Valley. If stops at these scenic outposts don't satiate your desire to see the Everglades, there are more park entrances south of Miami such as the Pinelands Trail, the Mahogany Hammock Trail, the Rowdy Bend Trail, or one of the many other short interpretive trails.
If you don't mind getting your feet wet, join a guided slough slog in the River of Grass, an experience you'll only have in the Everglades. You'll get off the beaten path, get a glimpse of a cypress dome, and get up close and personal with wildlife.
You'll have plenty of other opportunities to spot wildlife elsewhere in the Everglades, too. Take a guided canoe or kayak trip to do some paddling through Nine Mile Pond or Hell's Bay or make your way to Eco Pond or Anhinga Trail, where you'll spot birds like osprey, painted buntings, cormorants, and more.
Do you prefer a more leisurely tour of the Everglades? Try a tram tour; you'll get to see fascinating spots in the park. If you'd rather get out on the water, try an airboat tour in the northern area of the park near U.S. Highway 41. No matter what you choose, be sure to pack plenty of sunscreen, bug spray, and drinking water.
6. MIAMI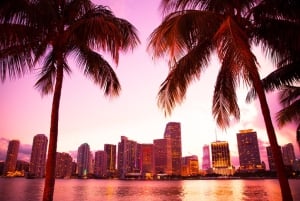 Miami Skyline. Photo Credit: iStock
Just a
short drive east
of the Everglades, Miami wraps up your Gulf Coast road trip. Immerse yourself in local history and natural beauty at the Vizcaya Museum and Gardens, soak up the Atlantic Ocean breeze with a stroll through Lummus Park or check out cutting-edge design in the Wynwood and the Design District. Take a tour of Miami Beach's Art Deco District, stop by Miami's Little Havana neighborhood for a strong Cuban coffee, or shop until you drop along Lincoln Road.
When you're ready to check out Miami's nightlife and soak up this city's unique energy, head over to the bars and lounges along Miami Beach's Ocean Drive, or swing by the iconic LIV club at the Fontainebleau Hotel. In the morning, indulge in a classic pancake breakfast at the retro S&S Diner or treat yourself to the upscale brunch menu at the Threefold Café in Coral Gables.
Sure, if you're looking to get from Orlando to Miami in the fastest route possible, take the Atlantic side and get there in a few hours. But, if you want a memorable drive with opportunities about to experience the beauty and adventure Florida has to offer, opt for the gulf route.