A walking tour through Miami's Design District
Arts & Culture
Laurie Rojas
An annual visit to
Art Basel Miami Beach
is not complete without a trip to the mainland and a pilgrimage to the haven that is the Design District. Its high-end, open-air, pedestrian-friendly formula has become the gold standard for successful shopping districts across the US. The moment you arrive you will understand why. From the exceptional display of architecture and cutting-edge design, alongside upscale shopping experiences and award-winning restaurants, to the world-class art institutions and commercial galleries, strolling through a neighborhood has rarely been such a feast for the eyes and the soul. Brainchild of Miami native, the art collector and developer Craig Robins, the Design District is ever-changing. Alongside the mainstay institutions, there are pop-up exhibitions and new waves of shops, including most recently Balenciaga, Ferragamo, and Baby Dior.
Take this walking tour to see some of the art highlights of the Design District.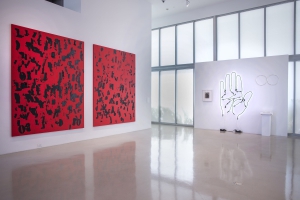 Installation view of 'Together, at the Same Time', 2022-2023, featuring work by Glenn Ligon and Felix Gonzalez-Torres. Courtesy of the de la Cruz Collection.
Stop 1
delacruzcollection.org
An uncontested favorite stop for visitors to Miami during Art Basel. Although it is open year-round, during Art Week the Cuban-born de la Cruz family always unveils a new collection-exhibition, organized around a theme, and featuring many large-scale works on a par with any major museum. This year it is titled 'Together, at the Same Time'and features artists such as Harumi Abe, Hernan Bas, Mark Bradford, Tomm El-Saieh, Rashid Johnson, Alex Katz, Wifredo Lam, Glenn Ligon, Pepe Mar, Ana Mendieta, Jorge Pardo, Rob Pruitt, Christina Quarles, Sterling Ruby, Dana Schutz, Xaviera Simmons, and Vaughn Spann.
[walk 2 mins]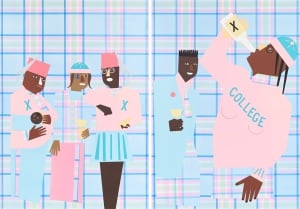 Nina Chanel Abney, Mama Gotta Have A Life Too, 2022. © Nina Chanel Abney. Courtesy of the artist and Pace Prints
Stop 2
ICA Miami
61 NE 41st St
icamiami.org
Walk down 41st Street, heading east to one of Miami's most important contemporary art institutions, the ICA. The magnificent perforated-aluminum Cubist facade, or as some like to call it 'Magic Box', was designed by Madrid-based Aranguren + Gallegos Arquitectos. This year it will showcase the first US, solo museum exhibition for the late multimedia artist Michel Majerus; new work by New York's rising star Nina Chanel Abney; and presentations featuring Hervé Télémaque and Jiang Cheng. Plus don't miss the sculpture garden, where you can see the artist-architect Suchi Reddy's installation, Shaped by Air.
[walk 2–3 mins]
Stop 3
Paseo Ponti (Virgil Abloh's Dollar A Gallon III and Urs Fischer's Bus Stop)
168 NE 41st St
miamidesigndistrict.net
[walk 1 min]
AUBI & RAMSA
172 NE 41st St #3516
aubiramsa.com
[walk 1 min]
Maison Francis Kurkdjian
176 NE 41st St
franciskurkdjian.com
After you leave the ICA walk east on 41st Street until you reach Paseo Ponti, where you will find several public art installations including Virgil Abloh's Dollar A Gallon III (2019), a sculpture created for the Design District of a tilted gasoline sign (with heavy Sunoco branding) that appears to have fallen down. If you turn left on the small walkway you will encounter Urs Fischer's Bus Stop (2017) – a copy of a Miami Beach bus stop with a skeleton lying on the bench and a small puddle of water by its side, coming from a fountain which trickles onto the head of the skeleton. Follow this walkway east, and you'll find the most exquisite shop for the over-21s, selling alcohol-infused ice cream, Aubi & Ramsa. Walk further north, back onto 41st Street, to one of Miami's poshest perfume shops, Maison Francis Kurkdjian, the perfect stop to get a Hanukkah or Christmas gift for someone special back home (tip: Baccarat Rouge 540 is one of the hottest fragrances of the decade).
[walk 1 min]
Stop 4
Welcome to the Misanthropocene (origins of Ecofeminism), 2022
NE 2nd Ave and 41st St
miamidesigndistrict.net
Turn right on 41st Street and once you hit the corner with 2nd Avenue stop to take a look at the new commission by Miami-born artist A.L. Steiner. This double billboard aims to introduce the concept of 'ecofeminism' to the District, and bring awareness to the urgency of ecological collapse.
[walk 4 mins]
Stop 5
David Castillo Gallery
3930 NE 2nd Ave, Suite 201
Davidcastillogallery.com
Head south on 2nd Avenue towards one of the last remaining contemporary art galleries in the Design District, run by a stalwart Miami dealer and featuring works from emerging to mid-career artists. To visit, you must enter the building from NE 2nd Avenue and proceed to the second floor. This year the gallery has organized a group show, 'The Floral Impulse', curated by the artist Xaviera Simmons, dedicated to the tradition of the floral still life, with 28 artists reflecting and subverting the genre's role in art history.
[walk 2 mins]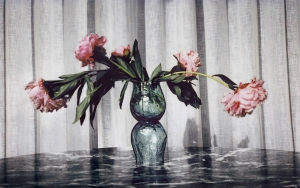 Xaviera Simmons, Florals, (One), 2022. Courtesy of the artist and David Castillo, Miami.
Stop 6
Gagosian and Jeffrey Deitch
Buick Building
3841 NE 2nd Ave
gagosian-deitch.com
Walk east on 38th Street to 2nd Avenue. Two of the art world's powerhouse dealers join forces again for Art Basel Miami Beach withthe group exhibition, '100 Years'. It explores the interplay of past, present, and future through works by contemporary artists, selected for their engagement with the sweeping cultural and environmental changes of the past century – as well as those who anticipate future possibilities.
[walk 1 min]
Stop 7
Craig Robins Collection
DACRA Headquarters
3841 NE Second Ave, Suite 400
craigrobins.com
Also inside the Buick building, 'Two of the Same Kind' puts the spotlight on the work of South African artist Marlene Dumas and German artist Jana Euler, whose painting and drawing practices are well represented within the collection. Their works are presented alongside over 100 pieces presenting an expansive overview of figurative art from the last three decades.
[walk 3 mins]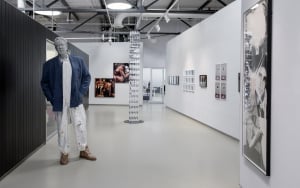 Craig Robins Collection. Photo by Robin Hill.
Stop 8
Buckminster Fuller's Fly's Eye Dome (1979/80–2014)
140 NE 39th St #001 (plaza)
miamidesigndistrict.net
Turn the corner on 39th Street heading west. Stop at one of the most historically significant public artworks in all of Miami. Conceived by Buckminster Fuller in 1965 as an 'autonomous dwelling machine', but not completed in his lifetime, this 24-foot fiberglass sphere was made in collaboration with the Buckminster Fuller Institute, Goetz Composites, ConformLab, and DRDesign using advanced technologies and materials not available to Fuller in the 1970s. Afternoon hours spent at this plaza give pure Zen vibes. Take a walk inside the dome, which doubles as an exit for a garage below.
[walk 5 mins]
Stop 9
Locust Projects
3852 N. Miami Ave
Locustprojects.org
Continue to walk west on 39th Street to the oldest alternative art space in Miami. Known for its commitment to experimentation, it allows artists to realize projects that push beyond the boundaries of their usual practice. In the last three shows here (before moving to a new location in Little River in 2023), Locust Projects presents Ecuador-born, New York City-based Ronny Quevedo's project, 'ule ole allez', a large-scale drawing in space, activated by the marks left behind by local soccer players during matches; Miami-based artist T. Eliott Mansa's 'Room for the living/Room for the dead'; and 'Portals of Introspection', guest-curated by Donnamarie Baptiste, featuring a selection of video work by Dimitry Saïd Chamy, Mikey Please, Duke Riley, and Paul Ward.
Stop 10
ASTRA
2121 NW 2nd Ave
astramiami.com
---
Head south to Wynwood in an Uber (unless you want to walk 30 minutes along a heavily trafficked road) for a cocktail at Mediterranean-inspired ASTRA, a loungey rooftop bar with jaw-dropping views of the Magic City. Great spot to take in the Miami party vibes and take a photo for your IG.
Captions for full-bleed images: 1. Leong Leong. Photo by Jill Peters. 2. Virgil Abloh, Dollar a Gallon III, 2019. 3. Craig Robins with Urs Fischer, Bus Stop, 2017. Photo by Camilo Rios. 4. Buckminster Fuller, Fly's Eye Dome, in Palm Court, Miami Design District. Photo by Luis Gomez.