Best Beaches To Relax Close To Nature in Miami
Miami
When you think of Miami, you think of its beaches. Much of the time, we just think of those in beautiful South Beach because they are so well-known via TV, movies, and images from magazines, Internet pages, and travelers.
Ocean Drive's Art Deco towers, the bars, and their umbrellas, Lummus Park, and the Atlantic Ocean are all highlights. However, there are far more beaches than we realize, both to the north and the south, with the city only a short distance away or in more solitary and natural settings.
Crandon Park Beach
With a reputation for being one of the finest beaches in the United States, this is a must-see on your trip to Miami. You'll find her on Key Biscayne, where there are 3 kilometers of sand and a sea with ideal waves for surfing to the north and calm waters to the south.
In combination with the activities it offers, various facilities such as shade on the beach, lifeguards, grills, parking, restrooms, toilets, and dressing rooms make spending the day very easy. Fishing, surfing, tennis courts, and anything you need for a nice day at the beach and an unforgettable barbecue.
On weekdays, it lends itself to a quieter and more intimate getaway; on weekends, though, a family picnic would be more fitting. All you have to do is load the car and drive away.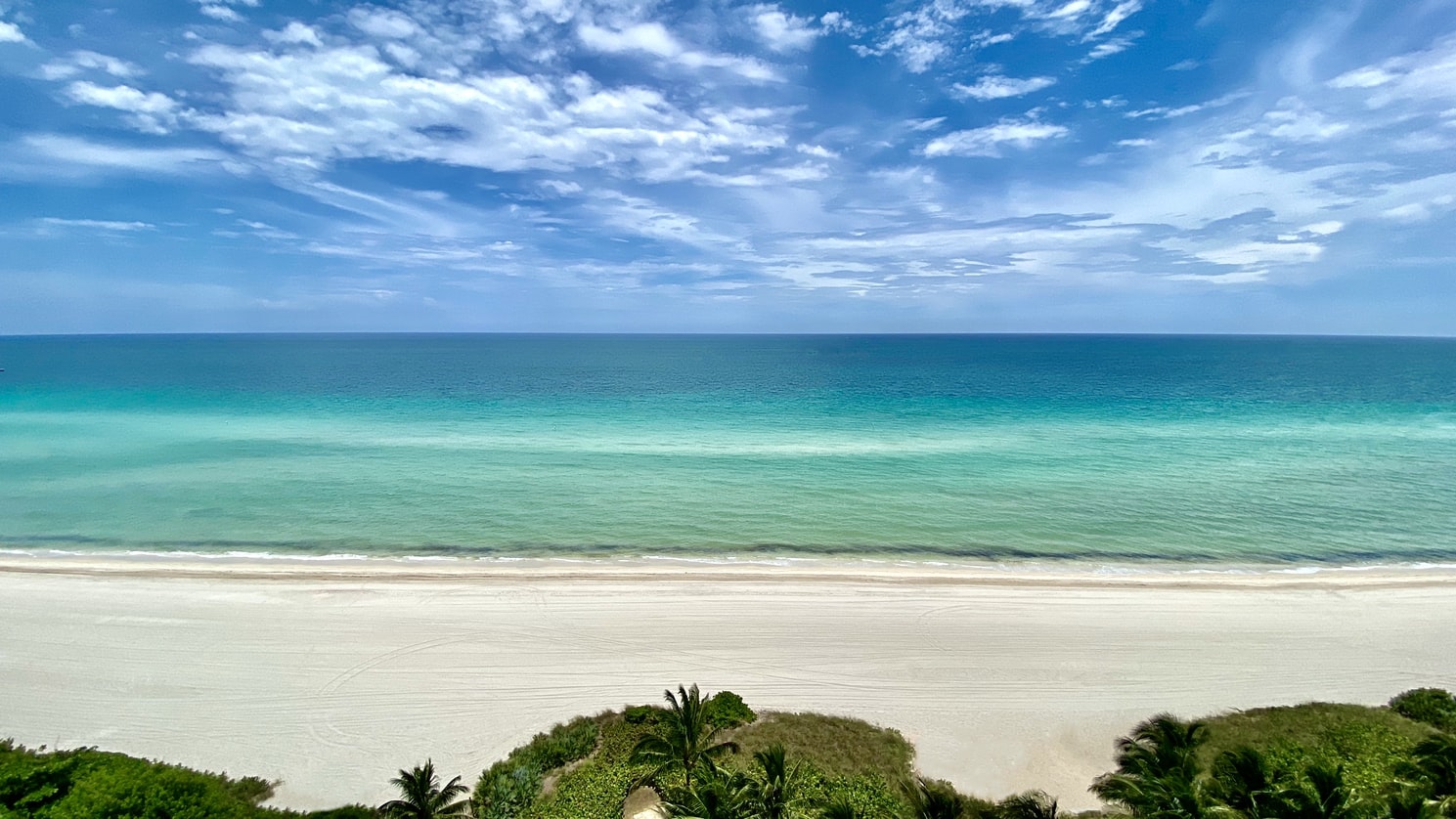 Sunny Isles Beach
Sunny Isles Beach
Sunny Isles has many public access points to its three kilometers of big beaches. They are located on Collins Avenue, north of Miami Beach, between 157 and 193 avenues.
The key entrance to these stunning white sand beaches and crystal-clear waters is situated in Pier Park (Collins and 163), which leads to its classic pier built-in 1936. Sunny Isles provides not only its famed beaches with life jacket cover, but also bars, confectioneries, public restrooms, civic parking lots, and a free community transit service seven days a week.
Bill Baggs Cape Florida State Beach
At the southern end of Key Biscayne, there is a treasure waiting to be revealed: a beach that is as breathtaking as it is wild, capable of making you feel like a real conqueror.
Bill Baggs Cape Florida State Beach is his name, and in addition to its nearly 2 kilometers of beaches, you can enjoy its trails, go for bike rides, fish, and dive.
But it doesn't stop there... the history of the city is lengthy, as shown by the lighthouse, the oldest building in Miami County. The Cape Florida Lighthouse is 29 meters tall and was built in 1825. It was targeted by Seminole Indians in 1836 and was also a target of hurricanes. It has been rebuilt to the point where you can admire it and climb its 119 steps for an impressive view of the ocean.
When it comes to dining, the options are only a few steps away: Boater's Grill or Lighthouse Cafe, all of which have an outstanding menu and very reasonable prices.

Bill Baggs Cape Florida State Beach

Haulover Beach Park
A broad park full of green can be found after leaving Miami Beach and going through Bal Harbor.
Moving south to north on Collins Avenue, Haulover Beach Park offers the hue of the boats at its pier, dive stores, tennis courts, and golf courses on your left, and picnic areas, grills, and all the sunlight from lovely beaches, dunes, and trails on your right.
A third of them (to the north) are recognized as Haulover Nude Beach (which has been listed several times in various media as one of the ten most stunning nudist beaches in the world), while all of them, along their complete 2.4 km of white sands, boast a vast horizon and are devoid of houses. A wide-open sea, a lot of waves, and a lot of fun.