Rooftop Cinema in Miami
Arts & Culture Mini Break
When was the last time you enjoyed a movie on a giant screen, surrounded by your friends and multiple people you don't know, but who are there to enjoy the same ritual as you: immersing yourself in a good story? Well, this is what we normally know as the experience of going to the movies, an experience that nowadays is becoming more and more relegated due to the great growth of on demand cinema and the amount of platforms that give us the opportunity to enjoy the content we want from the comfort of our home.
But of course, the experience of watching a movie at home is far from the rewarding experience of
going to the movies
with your friends or your partner.
Now imagine that the screening is not in a regular theater. It's outdoors, in an
open-air cinema!
And at the top of a building in the center of the city. Well, that's what
Rooftop Cinema Club
offers in its multiple locations around the world, and of course, it has its branch in Miami.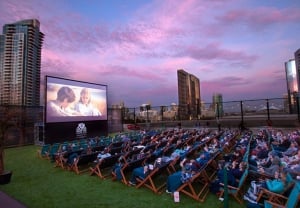 The concept of rooftop cinema is a new way of urban entertainment that has gained popularity in recent years as a unique and memorable way to watch movies. Its main goal is to transform an ordinary movie night into an unforgettable and unique experience, and to achieve this, the organizers carefully take care of all these points:
Location:
Rooftop cinemas are usually set up on the rooftops of buildings in urban areas, providing a stunning view of the city skyline. In Miami there are multiple
rooftop venues
where you can have a good time while enjoying the beutifull views of the city, and Rooftop Cinema Club, located in
South Beach
is one of them. The venue opens its doors early before the screening so you can enjoy the golden hour, sunset and dusk. And finally, when the sun goes down, the movie begins.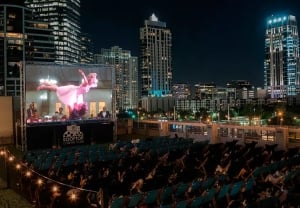 Seating:
Rooftop cinemas typically have a range of seating options, from comfortable lounge chairs to traditional movie theater seats. Some cinemas even have bean bags or picnic blankets to add to the relaxed, outdoor vibe. In Rooftop Cinema Club Miami you have two different options: lounge seats for one or love seats for two (perfect for date night).
Audio and Visuals:
Since rooftop cinemas are set up outdoors, they require special audio and visual equipment to ensure that the movie can be seen and heard clearly. This often includes high-quality projectors, sound systems, and screens. If you go to Rooftop Cinema Club Miami, they will give you your own state-of-the-art wireless headphones so you won't miss any dialogue or be distracted by noises from the outside world.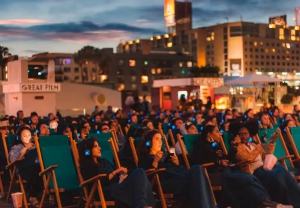 Food and Drink:
Many rooftop cinemas offer food and drink options for guests to enjoy during the movie. This can include popcorn, snacks, refreshing cocktails, beer and wine.
Overall, rooftop cinemas offer a fun and memorable way to watch movies.
Is all about creating a unique experience that is different from a traditional movie theater. The outdoor setting, city skyline, and special seating options all contribute to a relaxed, enjoyable atmosphere that is perfect for a night out with friends or a romantic date.