Newest Museums in Miami
Arts & Culture Lifestyle Top 10
Recommended by a local expert.
The city of Miami is very rich culturally and this can also be seen in the large number of museums it has, which in turn are installed in incredible architectural constructions of different styles, from contemporary art to even all kinds of Asian gardens. And the best of all is that most of them are free, and those that are not, have very cheap tickets.
Museums are one of the most important tourist attractions when we travel to a new place. They allow us to learn more about the culture of the place and its artists. So, if you are traveling to Miami, here we tell you which are the best museums to visit that surprise their visitors day by day with each of their varied exhibitions and activities, are you ready to know more about them?
Paradox Museum Miami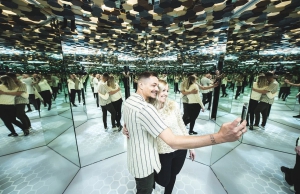 The Paradox Museum Miami is unlike any other entertainment venue. Featuring more than 70 fabulous, paradox-based exhibits, this museum offers more optical illusions and mind-blowing experiences than any other edutainment destination in the world. Here you will learn about all the wonderful science behind paradoxes. You'll have a blast and take pictures so spectacular your friends won't believe they could be real.
The Paradox Museum is a must-see destination, and one to share with people of any age. This is a place that will capture your heart and mind, open new perspectives, invite you to challenge reality, blow your mind and make you think twice.
With over 70 paradox-based exhibits, the Paradox Museum has taken the typical museum visit to another level for a truly incredible experience. The world's largest collection of paradox-based exhibits!
Useful tip:
Admission is for all ages, although minors must go with an older adult.
The visit lasts from 60 to 90min
Drinking and eating are not allowed in this museum

Miami Children´s Museum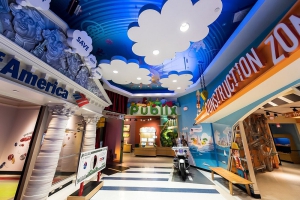 The Miami Children's Museum is the ideal attraction for a family plan in Miami. Here children can touch everything, explore without limits and learn while having fun.
Play, learn, imagine and create on Watson Island with the museum's 14 galleries of interactive, bilingual exhibits and daily programming for the whole family. The museum also offers seasonal camps and classes and much more - highly recommended if you have children ages 0-10!
Don't be fooled by the word "museum" in the title. The Miami Children's Museum is much more: it is a huge complex full of attractions and activities for the little ones. Whether you live in Miami or are planning to visit the City of the Sun on your next vacation, Miami Children's Museum is a must-see if you come with kids.
It is a complex -very well air-conditioned- full of attractions spread over 3 floors. It has indoor and outdoor parts, so it is a good option regardless of the weather. A great paradise for the little ones in the house!
Extra, extra! Did you know that the Museum has a public school inside its facilities? A preschool too!
And if that wasn't enough... you can also celebrate an unforgettable birthday party here! What are you waiting for?
Useful tip:
It is only possible to purchase tickets through their website.
Ask for discounts if you are a Miami resident
We recommend that you bring food to enjoy a nice picnic in the outdoor playground. But if you forget, you can buy sandwiches at the store.
Vizcaya Museum and Gardens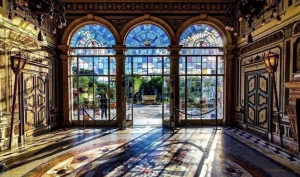 The building that houses the Vizcaya Museum is one of the largest mansions in the United States. Designed by Burrall Hoffman and completed in 1922, it was the winter residence of millionaire industrialist James Deerin, whose wish was to build a replica of an 18th century Italianate mansion.
For this reason, Vizcaya and its opulent rooms present a mixture of styles ranging from neoclassical to Renaissance, and whose furniture is the result of several purchases that Deering made in Europe. The gardens surrounding the palace perfectly copy the features of French and Italian gardens, making use of Florida's tropical vegetation.
Thanks to the fact that it belongs to Miami-Dade County since 1952, it remains perfectly preserved and open to those who want to discover it. Did you know that, like the Coral Castle, it is one of the official historic sites of the United States?
In short, Vizcaya offers the public almost all the original furniture and artistic pieces acquired by Deering in his travels through Europe. Thus, a stroll through this mansion takes us to faraway places and times, while the construction materials used (granite, coral, etc.), inevitably remind us of the local terrain. Has a cafe called Vizcaya Café & shop to enjoy during your visit. You will feel like the owner of the house sitting on one of the terraces of the house located on the first floor.
This is an ideal place to take a break from the frenetic life of South Beach. Vizcaya, located in the Coconut Grove area of Miami (very close to downtown), is like a world apart. This eclectic neighborhood is one of the oldest, and since a visit to Vizcaya takes no more than 3 hours, you can take advantage of your stay to visit other places in Coconut Grove.
Discover the mansion of Mr. James Deering, the tour consists of a visit to the main house and then to the gardens. Be amazed by the incredible amount of architectural marvels, period furniture and amazing gardens that this museum has! It will transport you to a fairy tale…
Useful tip:
Closed on Tuesdays
You can ask about their student discount! Don't hang up
Wynwood Walls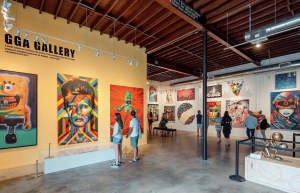 From Biscayne Bay to I-95, Edgewater gives way to Wynwood. This neighborhood, which exploded in Miami a few years ago, has not stopped growing. It is the reinvention of an area formerly full of warehouses, osworkshops and factory spaces in the heart of Miami and close to the freeway. It was inaugurated in 2009, for the famous art fair that takes place every year in Miami: Art Basel.
A neighborhood where you have to keep your eyes open to not miss any artistic intervention. The Wynwood murals are one of the most fashionable areas in Miami today and a place you can't miss during your visit to this great city.
The Wynwood Art District is located in downtown Miami, about 20 minutes by car from Miami Beach.
The best way to get there is by car or cab. You can also choose to take a bus such as the 110 bus from Mid Beach.
The best way? Wynwood Walls is an open-air space and admission is free. Here you will be able to enjoy the street art, visit Wynwood Walls, visit the Wynwood Market Place and make some gifts, try the excellent donuts that are sold in the city... today they don't talk about others. You can also sit down and enjoy some incredible food. Wynwood Walls has it all!
Useful tip:
If your idea is to enjoy the incredible art in the area, remember that they change every year so it may be that when you go there they will no longer be the same.
If you want to take pictures with the least amount of people I recommend going early in the morning.
Bring sunscreen and comfortable shoes. It is no news that Miami is usually very hot all year round and since you are going to be outdoors, it is essential that you use sunscreen.
Superblue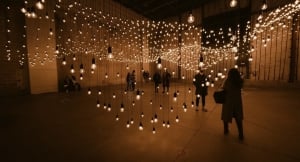 Opening in May 2021, the renovated space has nearly 3,000 square meters for exhibitions, with 9-meter ceilings. It is an entertainment enterprise that houses stunning sensory artworks by James Turrell, Es Devlin and teamLab, offering a unique opportunity to be transported to new worlds through art.
At Superblue, the barrier between spectator and work of art has evaporated. It lays bare the structures of visual perception (and the errors of perception) that create magic.
The proposal arises at a time when people, tired of the screens of their phones and computers, want to live tangible and memorable experiences in real life. Each experience is designed by artists and a group of technicians that make it possible. The technological quality and the sensitivity of the artists make a visit to this new contemporary art space a memorable experience.
One of the incredible experiences you can live related to nature is Meadow, a poetic landscape that evokes impermanence. Colored mechanical flowers that seem to communicate with the visitor, light up, open and close when sensors detect their presence. They were made by the DRIFT studio and arose from the reflection on how an inanimate object can replicate the subtle changes in nature that seem to express personality and emotions.
It's hard to leave Superblue without a smile and the feeling of wanting to come back soon!
Useful tip:
You can book up to 30 minutes in advance if there are places left
Free cancellation
Perez Art Museum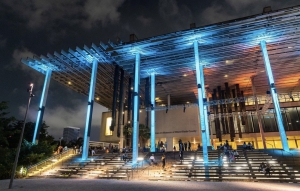 The Pérez Art Museum of Miami, or PAMM for short, is one of those mandatory visits in the city if you like modern and contemporary art. Thanks to the thematic exhibition layout, the PAMM visitor is transported not only to Miami, but also to other parts of the world. It is a very spacious museum that stands out for its amazing selection of works of art.
In addition to the permanent collection, the museum has certain temporary exhibitions that leave no one indifferent. It surprises with the large number of sculptures and contemporary objects it has.
It is a contemporary art museum located in downtown Miami, Florida. Founded in 1984 as the Fine Arts Center, it became known as the Miami Art Museum since 1996, until it was renamed in 2013 with the inauguration of its new building designed by Herzog & de Meuron.
Largely due to the spectacular views of the bay, we could say that one of the highlights of the Pérez Art Museum Miami is undoubtedly its garden. You can also have some refreshments or enjoy an incredible dish! Don't miss it
Useful Tip:
If you are thinking of visiting this incredible museum, you should definitely check the weather, as its best exhibits are outdoors.
We recommend going to the Pérez Art Museum with the Metromover, which is Miami's free transportation service.